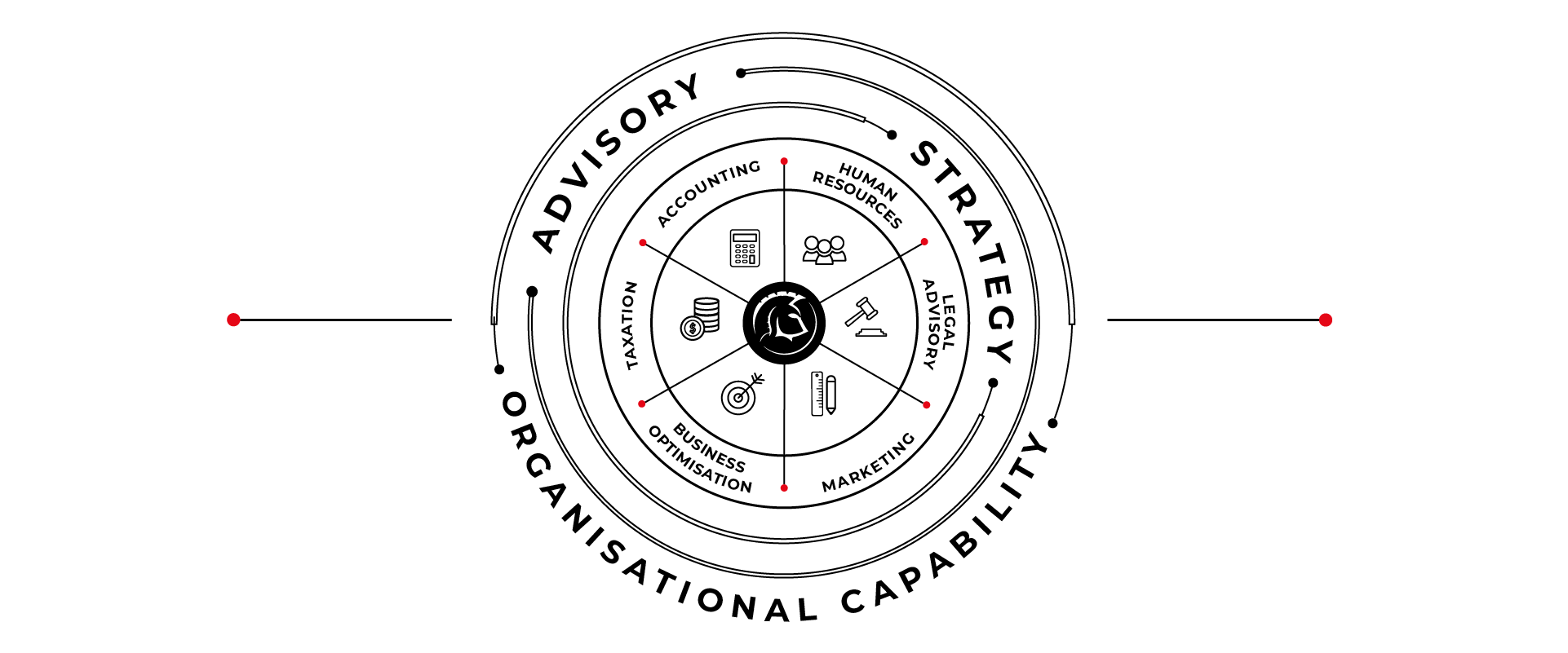 ACCOUNTING
Using the latest technologies, we process you're Accounting & Payroll data and provide meaningful reports for you to make sound business decisions and ensure your compliance is with the various authorities is maintained. 

HUMAN RESOURCES
Our dedicated HR Team will assist with all aspects of an Employees Life Cycle. Designing a job, recruiting the employees, performance management, remuneration and benefits, performance management, IR and dispute resolution, employee relations, Broad-Based Black Economic Empowerment (B-BBEE), Skills Development, Employment Equity, Occupational Health and Safety and all other areas of compliance.

TAXATION
Through proper planning and structuring  we ensure your business is fully compliant in all spheres, providing peace of mind. Should you have a tax dispute our legal and tax team research and Identify the best possible solution for your unique challenge.

MARKETING
We capture the hearts and minds of your current and prospective Clients by developing  your brand's marketing and design strategy. We then design, develop and deploy bespoke Logo's, Websites, Editorial, Video and Animation, using SEO, Google Ads, Analytics and much more…

LEGAL ADVISORY
Our specialist legal advisory team specialise in tax, corporate and commercial contracts, labour law, regulatory, corporate governance, debt collection and trusts. Our aim is to mitigate legal risk while providing peace of mind.  

BUSINESS OPTIMISATION
Using Process Mapping Technology, opportunities for improved efficiency and reduced costs are identified. Our dedicated Business Optimisation team will work closely with you to eliminate these inefficiencies. We use a methodical and scientific approach to optimize your business to achieve your goals.
BUILD YOUR LEGACY WITH ARISTON GLOBAL
Johannesburg- Head Office
6 Eaton Avenue, Building 2, Bryanston, Sandton 
London
33 Cavendish Square, Marylebone, London, United Kingdom, W1G 0PW
Cape Town
Waterford Place, Block 4, 2nd Floor, Century Boulevard, Century City
Durban
1st Floor, Liberty Building, 21 Aurora Drive, Umhlanga 
Gaborone
Plot 14433, Gaborone West Industrial, Gaborone, Botswana